Migrating a website – using a Plugin

Want to know how to migrate your website to a different server or host?
Unsure how to migrate your WordPress website to a different location or host? What steps are required and how to ensure everything goes across? Read the following article which explains in simple steps, how to achieve this effortlessly, using a plugin…
WordPress is comprised of two main parts – the front-end (PHP) and the back-end (SQL Database). There are a few plugins which do the job of importing and/or exporting complete WordPress websites for you – I tend to use WP ALL IN ONE MIGRATION. The caveat is that you need to pay for the extension plugin if you wish to import sites larger than say 128 Megs (and websites tend to be over this limit).
The plugin creates a file which can you save to a variety of locations, but for this example, we will save it to a file on our computer, so:
Step 1 – Exporting using a Plugin
Go to the ALL IN ONE WP MIGRATION menu.
Choose Export
Export To > FILE > (depending on your computer set-up a pop-up will appear and you choose where to save the file).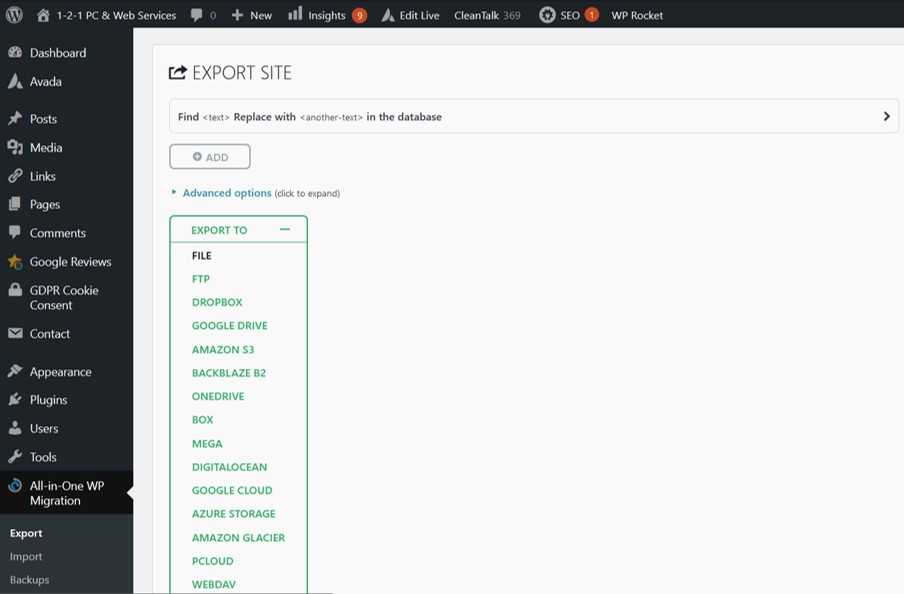 Click OK and wait for the plugin to export the site.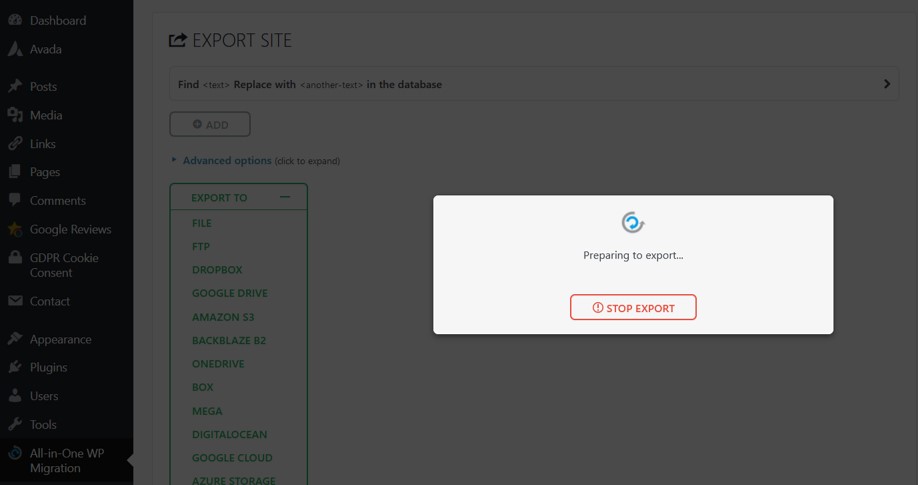 A pop-up box will appear with the name of your site and related file size – click on it to download your site. Click Close to  close the pop-up box and the export is complete!
Handily it exports both the PHP files and the Database as a complete file package, so once exported you are ready to import to a new website location.
Handily it exports both the PHP files and the Database as a complete file package, so once exported you are ready to import to a new website location.
Step 2 – Importing using a Plugin
Create a new WordPress instance with your new host – don't worry about the domain yet, this can come later, just create a blank WordPress site, typically with a default temporary domain depending on your host.
Once created, go into the administrator part of the site and upload the WP ALL IN ONE MIGRATION plugin.
If your site is bigger than 128 Megs, which it probably is, get the unlimited extension, add as another plugin to your WordPress website and it will automatically allow for large sites through the ALL IN ONE plugin.
Go to the WP ALL IN ONE MIGRATION WordPress site menu from your Dashboard and select Import from the menu
Click Import > Navigate to where your file is saved and click OK.
Wait for the plugin to do its work – keep the browser window open while its importing (this is important!).
Near to the completion of the import the plugin will produce a warning pop-up window will appear, asking if you're sure you want to import the new site (effectively overwriting the WordPress install that's already there). Click PROCEED.
When the upload is complete, you are presented with a final screen, to let you know that your data has imported. The final thing to do, is to log in to the new site (with the old site's credentials) and save the Permalinks twice.
This completes the process, and your site has now been successfully migrated.
Step 3 – Finishing the website migration successfully
Please note SSL plugins may well need to be re-activated, especially if using Really Simple SSL plugin.
Close the window and then navigate back to the temporary domain and there sits your freshly imported site! Great.
It may be missing the odd font or icon setting, depending on the theme – go back into the WordPress administrator page and re-activate them and save.
It's always worth double-checking your freshly imported site – that everything is there (which is should be) and looks as you want it to (might need some finessing with your chosen theme, as per note above).
Step 4 – Domain re-pointing/transferring

If you already have a domain, either switch it to the new host or point the nameservers to the new host from the old one, this will mean the website that sits on your new host, will be accessible from the domain you already had.
Further detail about working with domains will be covered in another article as it is quite involved.
Remember, if you do change nameservers or DNS Custom records, to allow up to 72 hours for propagation across the globe (though for example with .co.uk domains, this can happen a lot quicker).
Once redirection is completed and SSL enabled (if appropriate), you can delete the website from the old host and job done!
Please Note: If you have any problems or run into errors such as the database not connecting properly, please contact me and I will help you fix it.
WANT OTHER GUIDES OR INFORMATION?

Please describe what you need help with for either PCs or websites and I will get back to you within 24 hours.